We have three 50m swimming pools, a saltwater lagoon, as well as swimming camps and swim video analysis.
The conditions for swimming at Club La Santa are world class and many swimming club and teams hold their training camps here.
We have three 50-metre heated swimming pools with a total of 24 lanes. The water is naturally heated using green energy from solar panels and underground geothermal heat pumps.
If you prefer open water swimming, we also have a saltwater lagoon where you can train safely in calm water. Wetsuits are highly recommended especially from November to May.
In Sports Booking you borrow swim equipment for both children and adults including:
*Aqua Joggers
*Armbands for children
*Fins
*Hand Paddles
*Kick Boards
*Pull Buoys
Swimming Training
Swimming is one of our most popular activities and with a huge variety of lessons and training sessions, there is something for everyone. We offer swimming lessons in all four strokes for both children (6 years +) and adults, and from complete beginners to advanced swimmers plus group squad training sessions.
Our instructors are fully qualified and up to date with the latest techniques, so you are assured the very best swimming experience. You can also do your own swim training in one our spectacular pools.
Flip'n'Fun (Children)
A fun activity for children incorporating different types of entry into the water. The aim of the session is to have fun while increasing the children's confidence when out of their depth. Ages 6-15 years.
Hydrophobia Swim (adults)
Hydrophobia swimming provides an opportunity to overcome your fear of water, learn a new skill, and gain confidence in water in the comfort of our Wellness Centre. The 30-minute session focuses on entering the water and basic exercises to improve comfort whilst working at your own pace. It is never too late to learn to swim.
HIIT Swimming
HIIT is short for High Intensity Interval Training, and as such, the focus of this session is to improve your cardiovascular and general fitness level. Using short but very intense intervals, you will find that it's actually possible to sweat in the water.
Swim Squad
This session is for the intermediate and advanced swimmer who wants to train pre-programmed sets. 3 different programmes covering 1000, 2000 and 3000 metres will be provided, along with technical points from our coaches. Every day will focus on a different skill: Friday – Speed + Intervals, Saturday – Negative & Positive Splits, Sunday – Endurance, Monday – Instructors choice, Tuesday – Breathing, Wednesday – Strength & Thursday – Technique.
Open Water Swimming
Are you training for you first triathlon or open water swim race? Are you a seasoned open water swimmer but looking to improve your performance? Whatever your goal, we offer three different sessions in the north pool and the lagoon catering for swimmers with no open water experience, to those who want to perfect their technique and skills.
Our structured sessions will help you with the following skills to make you a faster and more efficient open water swimmer:
*Sighting and swimming between buoys
*Swimming around buoys
*Drafting
*Entering and exiting the water
*Breathing
*Stroke rate
*Race strategy
*Tips for dealing with various open water conditions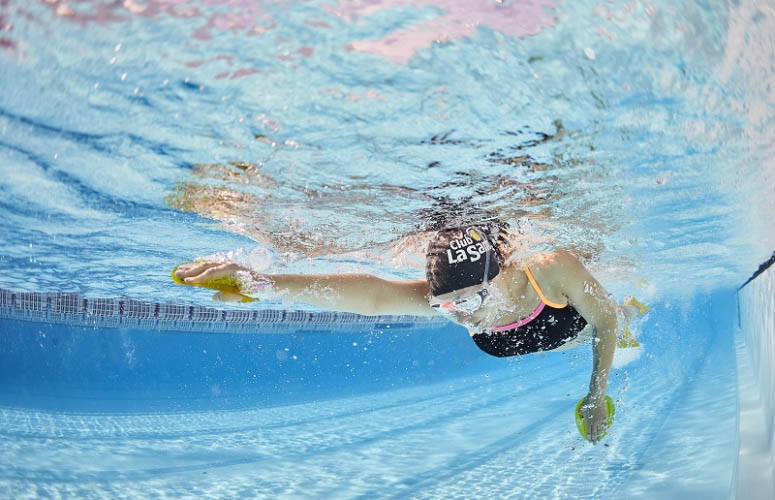 Personal Instruction
Improve you swimming technique and get faster in the water with a personal instruction with one of our qualified and experienced swimming instructors. We offer instructions in all four strokes and for all levels, from complete beginners to advanced.
Price
1 person 25 minutes: 25€ (+ 5€ per extra person)
1 person 55 minutes: 40€ (+ 10€ per extra person)
Swim Video Analysis 
Improve your stroke efficiency & maximise your training potential with a swim video analysis.
We will video you swimming from three different angles, review the footage and advise you on technique adjustments to help you swim smarter and faster.
Price
1 person 60 minutes: 99€
Get a 25 minutes follow-up meeting after 48 hours for 25€
Leisure Pool
Not only do we have the facilities to improve your swimming technique, we also have a large leisure pool to be enjoyed by all, plus a small shallow pool for the little ones. Spend time playing with the kids, or simply enjoying a book and some downtime.
In summer time (high season), you can also enjoy our Aqua Party and Aqua Up classes. They are the perfect way to train, have fun and cool off all at the same time.
Upcoming Events