Weekly Programme & Sports Booking App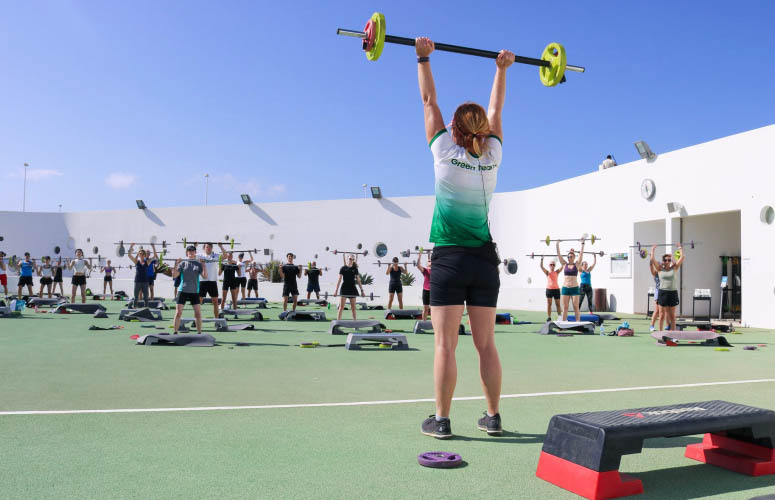 Our weekly programme is a timetable showing all sports activities, events, excursions and entertainment for the week. You can book via the Club La Santa App or in Sports Booking, after you have checked in at reception.
To view the next 14 days worth of activities and sports – click here.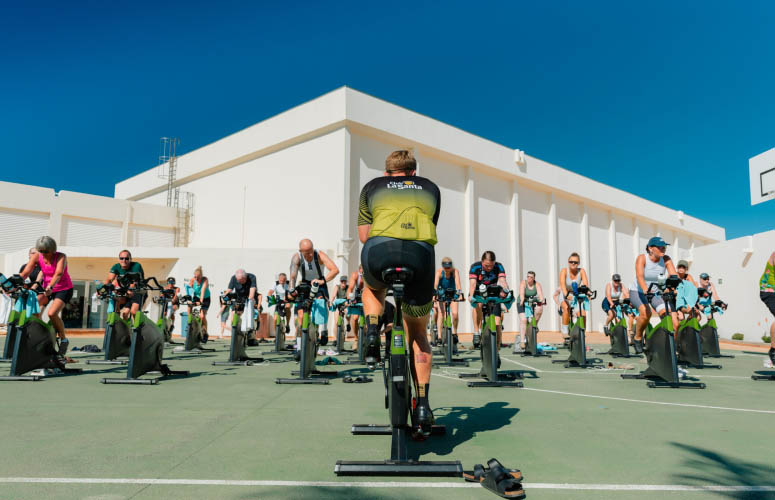 Club La Santa Booking App
Club La Santa offers a modern and flexible solution for booking activities and facilities during your stay. The Club La Santa Sports Booking App is available for IOS and Android and it makes booking easy and accessible, 24 hours a day during your stay. We utilize an intelligent points system that ensures everything is shared out in a fair and simple way.
All bookings are also possible via Sports Booking onsite.
How do I get access to the Club La Santa App?
The Club La Santa app can be downloaded for free on your smartphone or tablet via the App Store or Google Play. The app is available for clients with a current reservation only.
We recommend that you create a My Club La Santa account to make it easier for future use. Another option is to go to Sports Booking, after checking in at reception and receive a QR-scan code for anonymous login.
If you are traveling as a family or group of friends, it is only the lead person (who has booked and paid for the accommodation) who receives a login. By sharing this login, you can manage the activities for all occupants in the apartment.
Does it cost anything to use the app?
The app itself is free, but you will need access to Wi-Fi or mobile data to use it. Club La Santa is happy to offer free Wi-Fi in all apartments and in most outdoor areas. Furthermore, many mobile companies offer free or limited mobile data outside of your home country.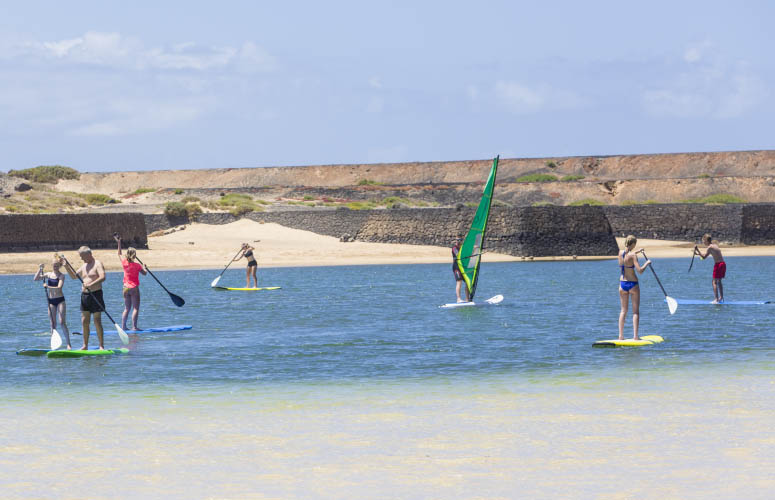 How does the point system work?
All guests are allocated a fixed number of points no matter the duration of the stay. These points are used to book the various activities, instructions, bikes etc. When an activity is over, the points will be released and go back to your account to use again. Points cannot be transferred to third parties. A child who travels with his/ her grandparents can therefore not take over any of their points, for example; you can only book the number of activities that your points total allows. Should you wish to book more, you may either cancel a booking, or wait for your points to be restored once an activity has finished. You are not allowed to book a class in someone else's name and you cannot book your child on adult classes in your name.
All activities "cost" a certain number of points. Activities with limited space are more expensive and activities without a maximum capacity will be free. You can book activities up to 14 days ahead, but the closer you get the cheaper it will be if there are still spaces available. Should there still be spaces available on the day, the activity will be free two hours before start time, as our main objective is to fill our classes. The system will prevent you from booking activities with overlapping times.
You have the option of joining the waiting list, which costs the same as booking a spot on the activity. We try to avoid long virtual waiting lists, You can keep an eye on what number you are on the waiting list via the app and should you get a place on the class you will automatically receive a notification.
We hope that the point system will encourage less overbooking of activities, but at the same time, motivate our guests to cancel bookings that they will not use, as this is the only way to get points back.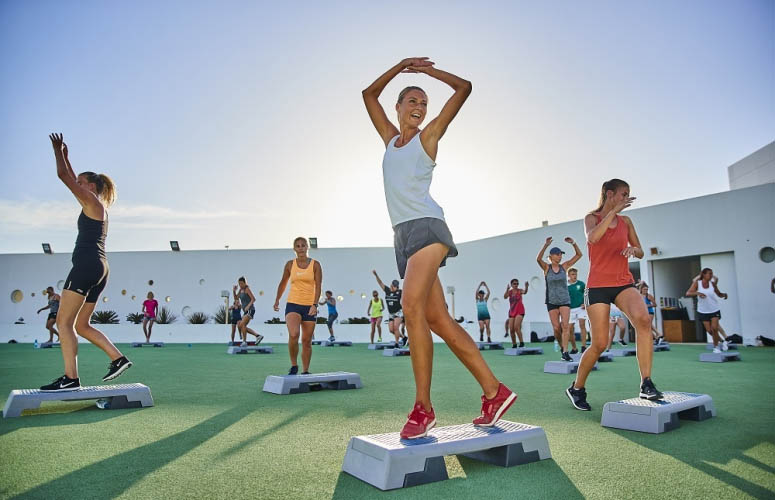 How much can I book?
You can book as many activities and facilities as your number of points allow you to. Some bookings cost more than other and some are free.
You can only book an activity if you match the age and gender requirements for the activity and if you have no other activity booked during the same time period. It is not possible to book anything else at the same time as you have a bike booked. This is to ensure that when our bikes are booked, they are out and when they are not, they are available for others to use.
When can I start to book?
It is possible to book via the app or in Sports Booking from 1 hour after check-in. Bookings cannot be made before arrival, to make things fair for everyone. This makes things equal no matter what day you arrive or if you intend to use the app or Sports Booking.
How much information will be available on the app?
All activities are in the app and each one is described in detail including the time, venue, age limit, availability, description and additional advice. If you are not using the app, you can get the same information from Sports Booking.
If an activity has moved, changed or been cancelled, anyone who has pre-booked will receive a notification. For this feature, you must have allowed notifications in your device settings.
Besides information about sports, the app also provides plenty of information about the rest of the resort, dining, wellness and health services. You can book tables, appointments and also do a pre check-in prior to your arrival.
Information about extra activities, special events and offers will also be available via the app.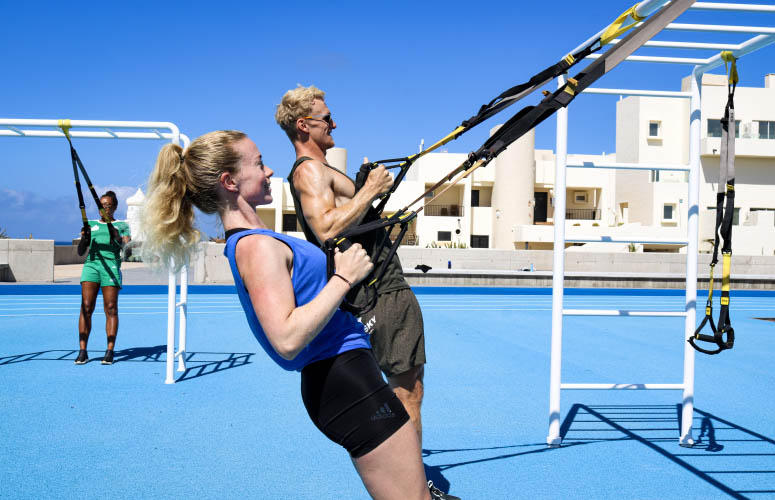 General Booking Rules
Booking can only be made in person in Sports Booking, or via our app from one hour after check-in at reception.
During your stay you can book activities for a maximum of 14 days ahead.
When the time frame for each activity is over, you will automatically get your points back.
Points will be returned immediately after cancellation of a booked activity.
Cancellation after 30 minutes before the activity starts are not possible
If a group activity or a facility is fully booked, it is possible to join the waiting list.
It is only possible to book one facility or activity within the same time frame.
It is only possible to book a facility or activity if you match the gender and age criteria.
It is possible to book the same activity in advance, twice per person per day, but the second booking will cost double points.
For one bed apartments and suites, it is only possible to book the same facility in advance, once a day.
For apartments and suites with two bedrooms or more, it is possible to the book the same facility in advance twice per day.
Due to age and gender rules, it is not possible to book on behalf of another person. Places are not transferable. The instructor has the right to refuse participation to anyone who does not match the name on the participant list
Bikes can be booked up to 14 days in advance for three different time slots. It is possible to book more than one time slot for the same bike size, but additional slots will cost extra points. All bikes must be booked before collection.
You must be present at least 5 minutes before the start of an activity to guarantee your place. After this time the instructor will start calling the waiting list and anyone not present will move to the bottom of that list.
If you arrive to a facility more than 10 minutes after the booking started, your booking will be deemed invalid and other guests can take it over.
Special rules for Time Share Owners
There are 4 tennis courts available for which Time Share Owners have a preferential advance booking option of 48 hours. Other guests will be allowed to book these courts from 24 hours in advance.
Time share owners can exclusively book additional bike slots with no extra points cost. All bikes must always be booked in advance.
Special rules for groups larger than 10 persons
Group leaders can book facilities in advance prior to arrival via the Group Department.
Group leaders can book activities with a personal instructor for an additional fee prior to arrival via the Groups Department. Find the groups activities list here.
Bike Hire:
Bikes must be booked in advance. It is not permitted to turn up without a booking and take a bike. Bikes can be booked up to two days in advance via the Club La Santa Booking App or in Sports Booking.
Our free bikes are available in three times slots during the day:
08.30 – 11.30
12.00 – 15.00
15.30 – 18.30
To ensure you get a bike, it is recommended that you book two days in advance. If bikes are still available, it is possible to book a bike once a time slot has already started but remember that the bike must be returned at the latest 15 minutes before the time slot ends. If the bike is available, you can book the next time slot and keep the bike for longer. Pre-booked bikes that are not picked up 20 minutes after the start time, can be handed out to clients on the waiting list. You can combine two or three time slots for a longer bike ride.
During your bike booking, you will be restricted from booking other activities. Even after returning your bike, you will be restricted until the end of the time slot. An exclusive feature of bike bookings is that it is possible cancel your booking during the time slot if you come back earlier. This will free you up to make other bookings and also give you your points back.
Bikes must be returned 15 minutes before your booking time ends. If bikes are not returned on time, you can be deducted points for the rest of your stay.
You must prove your booking to the bike centre staff when collecting your bike. You can do this on your smartphone or tablet by showing your booking in the App, or if you booked in Sports Booking, you will need a print-out of your reservation.
If you want a bike for serval days, we recommend that you rent one of our high-quality carbon bikes. These bikes can be booked and payed for via our website before arrival, or you can book via the app once you are on-site.