Water Sports
are both safe and fun in our  lagoon, take part in Stand Up Paddle boarding (SUP), kayaking and windsurfing. Whatever you want to try and whatever your age or experience level, there is something for everyone to enjoy with the Club La Santa Water Sports Range.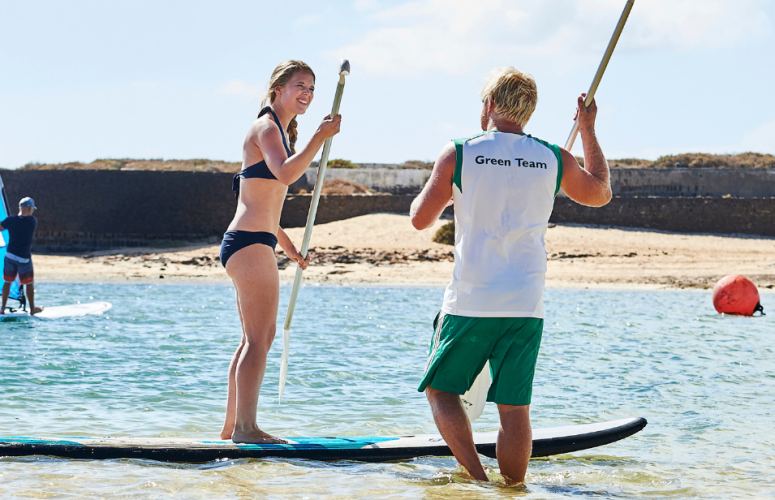 Stand up Paddle Board
Stand Up Paddle (SUP) is a fun and safe and easy water sport that anyone can enjoy. It requires no technical skills or knowledge in advance, and can be a great way to relax and have fun after some busy La Santa days. You can master the basics in five minutes and away you go.
SUP is a full-body workout, and when you stand up to your full height while you paddle, you can enjoy views of the lagoon and the surrounding area.
Throughout the week we have beginners and intermediate classes, to teach you the basic skills and give you confidence on the board.
Each week you can participate in our social SUP Race, which is open to anyone 15-years or older, you do not need to sign up in advance. If there are lots of participants, 2 races will be organised, so everyone can take part.
Kayaking
Kayaking is great fun, relaxing, and easy to get the hang of!
You can paddle around our lagoon by yourself or you can take part in a group class.
Classes and Races
In this class designed for kayak beginners you will learn the basics skills to be able to be able to handle the kayak and paddle as well as balance and some paddling.
To take part in the race you must have basic kayak skills, the weekly programme will outlines all the classes and races available that week.