Triathlon
We have a range of training camps,  experienced coaches, and world class facilities to help you take on your first or your 30th Triathlon. Our weekly activities can help you develop aspects of your Triathlon performance.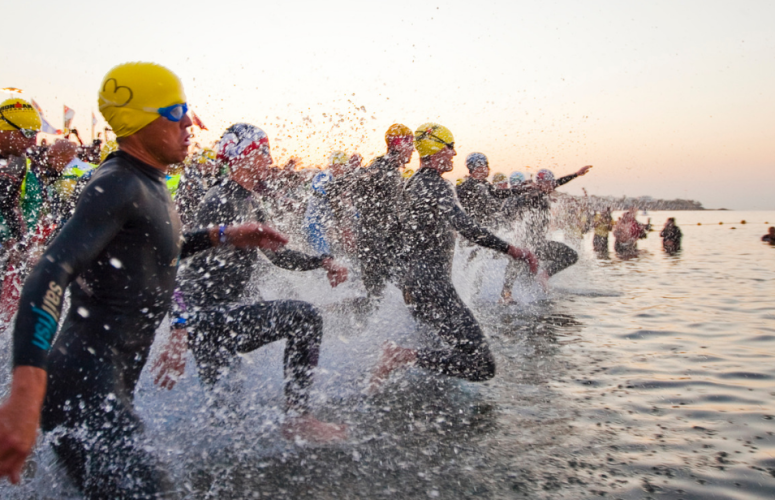 Club La Santa is every triathletes dream, whether you want to train indoors or outdoors, you will find everything you need, conveniently located on your doorstep.
For swimming, we offer three 50m swimming pools heated to around 26-27°c all year round. We also have a saltwater lagoon located on the edge of the resort. The safe, calm water makes this the perfect place to practice your open water swimming.
For cycling, our large bike centre is equipped with a wide range of free and rental bikes, plus a Pro Peloton Bike Mechanic Workshop. Once you have your bike sorted, there are kilometres of quiet asphalt roads and volcanic trails at your disposal so you can train to your hearts content.
For running, we have a brand new CONIPUR Vmax running track. There is also a great variety of on and off-road terrain around the resort plus a wide variety of guided runs at different paces.
If you prefer to train indoors or want to work on your strength and conditioning, we have fully equipped Fitness Centre and Body Bike Room. Our Fitness Centre has everything you need for all your cardio and strength requirements and we run daily classes in our Body Bike Room.
Everything is conveniently located very close together making it the ideal place for Brick Training – swim to bike and bike to run.
GREEN TEAM TRIATHLON, DUATHLON AND AQUATHLON
We run weekly aquathlon, duathlon and triathlon events open to all guests. All ages are welcome to join but if you are 14 years or younger you must be accompanied by an adult throughout the event. 
GROUPS
Club La Santa often accommodates large groups of triathletes looking for high standard, warm weather training facilities. Our friendly groups department are on hand to help cater for your every need. They can arrange special group prices, pre-booking of sports facilities and access to our state–of–the art conference facilities. 
TRIATHLON EVENTS
We organise three big annual triathlon events here at Club La Santa.
We start with the olympic distance Volcano Triathlon, which is Spain's oldest international triathlon, running since 1985.
Next up is our biggest event, the Club La Santa IRONMAN Lanzarote. This is regarded as one of, if not the toughest IRONMAN in the world and has been running since 1992.
Finally, our newest addition to the calendar is the Club La Santa IRONMAN 70.3 Lanzarote. Originally held on-site at Club La Santa but relocated to Playa Blanca in 2019, this event is going from strength to strength. 
TRIATHLON TRAINING CAMPS
Club La Santa is the setting for many international training camps for triathletes of all levels. We offer camps for complete beginners who want to take their first step into the world of triathlon, as well as for those more experienced triathletes who are training for their next challenge.
Are you preparing for your first IRONMAN or Olympic distance triathlon? Do you need some focus and inspiration for your next race? Maybe you just want to train with like minded people under the Lanzarote sun? Whatever your objective, we have something for you. We cover all distances and have some fantastic inspirational and experienced coaches on hand. Many national and professional teams choose Club La Santa as their winter training destination.