Triathlon
We have a range of training camps,  experienced coaches, and world class facilities to help you take on your first or your 30th Triathlon, our weekly activities can help you develop aspects of your Triathlon.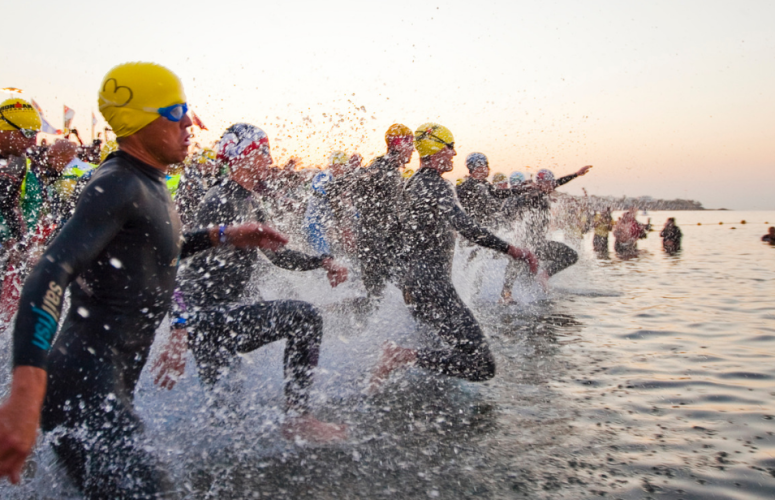 Since the beginning these challenging sports have been a major part of the Club La Santa spirit. We continually strive to raise the bar for our facilities and what we can offer.
Whether you want to train indoors or outdoors, you will find the right training conditions and facilities at Club La Santa.
Swimming: Our three 50m pools offer 24 lanes, meaning you can always find space to train. The pools are heated to a constant 26-27 degree temperature.
We also have our own salt water lagoon which is located on the edge of the resort, which provides a safe area to practice your open water swimming.
Running: From track sessions, to hill runs we can provide a wide range of running routes perfect to get your mileage in!
Cycling The quiet smooth roads are perfect for cycling, with some challenge hill climbs along the way, throughout your rides you will be reworded with spectacular views. Our large Bike Centre, with Pro Peloton Bike Mechanic Workshop, offers a wide selection of Cannondale bikes that are renewed every 2 years, including high spec Carbon road and triathlon bikes you can rent from as little as €25 per day. If you choose to bring your own bike, our mechanics offer a service to assemble and service them upon arrival, and to pack them before your departure. You are also welcome to use our free bike wash, free oil and pumps.For more information on the Bike Centre and hiring of bikes please read here. 
Here at Club La Santa we're a haven for Triathletes, with three 50m swimming pools, a salt water lagoon a new running track and fitness centre, all together with the Club La Santa atmosphere make it the perfect training location for athletes wanting to push there selves further.
Our Bike Centre is kitted out with a range of free and rental bikes, Pro Pelotan Bike Mechanics Workshops.
With kilometers of quiet smooth roads, you can hire a bike and take it out to get your training miles in.
You will find a variety of running routes around the resort both on and off road as well as our new CONIPUR vMAX running track, which you can use at your leisure. 
Our Fitness Centre also offers high end treadmills amongst other equipment for those athletes who like to include indoor training in their triathlon training programme.
Lanzarote is well known among cyclists for its' good asphalt roads which are well maintained and constantly upgraded. The island also has less traffic due to a relatively small population, and drivers are generally very considerate towards cyclists, making it a safer place to ride.
With everything conveniently located so close together, Club La Santa is the ideal place for Brick training – swimming to bike and bike to run.Every year we have many tri, running, cycling and swimming camps with the best instructors with expertise in their respective field.
Each year Club La Santa is the setting for international training camps for triathletes of all levels. We have camps for beginners who want to try tri-sport, as well as a multitude of camps for more experienced triathletes who are training for their next challenge.
If you are looking for training inspiration for the 5th IRONMAN, or whether you are wanting to improve your distance and confidence on a bike, or you just want to train together with other like minded people, then we have a huge selection of options for you. We cover all distances and have some fantastic inspirational coaches.
Many national teams choose Club La Santa as the perfect place for winter training.