September 24th – 30th September 2021
This Camp, now in its tenth year, is aimed at intermediate level swimmers and Triathletes/ Open water swimmers looking to find clear, concise and helpful coaching towards faster swimming in Open water.
This camp will enable participants to swim faster and more confidently.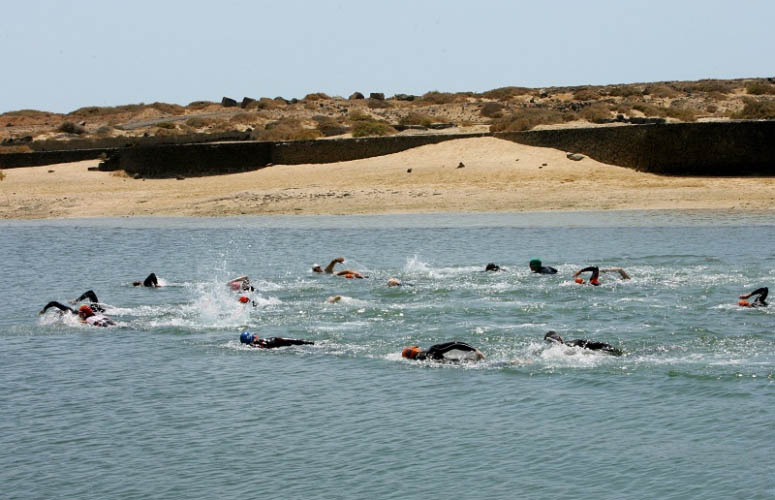 Training
This is the camp to understand how to gain confidence in Open-water. It will help you swim just the race course distance as many unnecessarily add '00s of metres, teach you how often you should sight and help with relaxed breathing. We can help with OW FC technique as it can differ from pool swimming and wetsuit fitting skills. Race tactics will be covered and we can help both Triathletes and those just racing Openwater.
The sessions are perfect for competitors from Openwater newcomers to intermediate levels (but several Pros have also attended in the past!) and the aim is to mix practical workouts with talks, video and demonstrations. Athletes who have a few years endurance training in Swimming or Triathlon will find it manageable and entertaining. Please remember your swim equipment such as a pool buoy, kickboard, flippers and a wetsuit.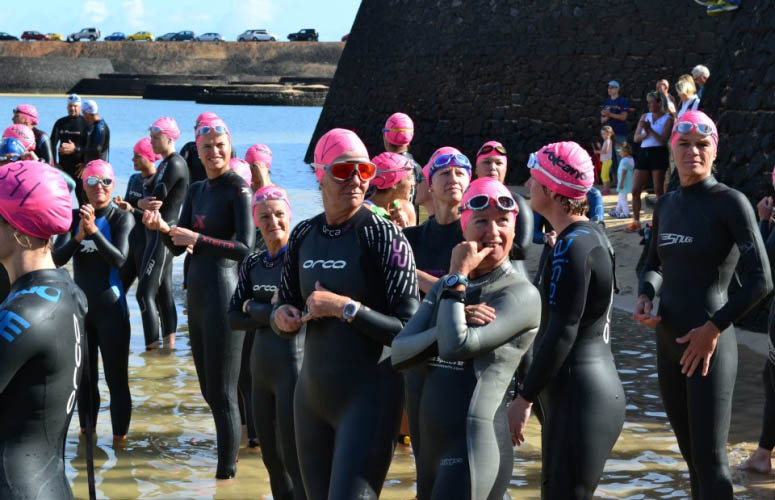 Provisional Programme
Friday 
09.00 Welcome Meeting and Registration
11.00 Swim Session – FR Technique & Filming
16.30 Wetsuit check & short swim, Lagoon
19.00 Wine & Tapas
Saturday 
09.00 Swim Session – FC Technique & Filming
10.45 Core Work out
16.00 Video Feedback
17.30 Open-water Swim, lagoon
Sunday 
07.00 Swim Session (Open-water practice)
09.00 Dryland Swim Exercises
17.00 Swim Session (OW Fitness)
Monday 
07.00 Swim Session (Open-water practice)
13.00 Swim Session (Open water
FC Technique)
16.00 Talk
Tuesday 
09.30 Departure to Playa Blanca/
Puerto del Carmen
17.00 Swim Session
Wednesday 
08.00 Race: IRONMAN 70.3 Lanzarote
Swim course
12.00 SWIM Q&A
16.30 Swim Session
19.30 Dinner
Thursday
11:00 2 lanes are booked for late departure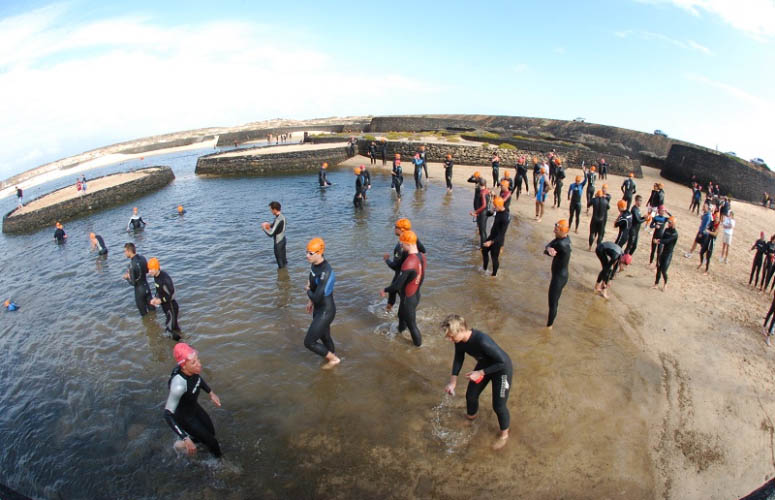 Comment from a former guests:
"Wow. You work incredibly hard. Thanks for your talent, swim brilliance, enthusiasm and sense of fun. Book chapters, drill set reminders and the prospect of homework (eek!). And you made time to edit filming of us all – which I'm sure will continue to be super instructive.
Thank you to all concerned.  To say that the week is value for money is an understatement.
In summary, the swim camp was (very) challenging, instructive and a complete joy!
Thank you!!" Karen, 2016
"Thank you Dan – definitely my best swim camp so far!! Your inspiration and patience was amazing. I couldn't imagine before I joined this camp that I'd be able to complete the 1.9 km open water swim – you and the team were absolutely fantastic from start to finish – thank you ALL." Alan, March 2017
"I really enjoyed the swim camp and learnt so much. The coaches were excellent and kept every session different and interesting. The filming was very useful and the level of knowledge that was given to us was really good. I would thoroughly recommend this swim camp." Tracey, March 2019
Book your place now!
The fee is €210 including all activities in the programme, a t-shirt and the celebratory dinner.
Places are limited, early booking is advisable to avoid disappointment. Please note that the camp is restricted to guests staying at Club La Santa.
From time to time, there are not enough participants in an event to ensure that everyone can enjoy a good experience, in which case we reserve the right to cancel. This happens rarely and should this occur you would be refunded the full amount of the event.