11th Sept – 17th Sept 2020.
This intensive Swim Camp is aimed at Intermediate level swimmers and triathletes, looking to improve, gain confidence and ultimately swim faster.
Rose Jones
has over 40 years experience in Swim Instructing and Coaching. Over the last 25 years she has been actively involved with Coaching  Swimming and Triathlon.
She loves being actively involved with developing, mentoring, motivating everyone and anyone that she has contact with. Nothing inspires her more, than to see athletes overcome their fears in the quest to cross the finish line. (There are so many rewards and emotions to coaching that I love and thrive on, Rose)
My qualifications ASA Swim Coach, ASA Swim Teacher, ASA Aquafit Teacher, British Triathlon Coach, British Triathlon Technical Official, Athletes Coach, Sports Therapist & Nutrition, Exercise and Wellbeing Advisor, helped me to work and train the many athletes of all abilities and nationalities coming to the Complex.
Apart from coaching, I have represented GB Internationally at Olympic and Long Course Distance Triathlon. I also hold the National Age group Middle distance Triathlon Champion and National Age group Aquathlon Champion.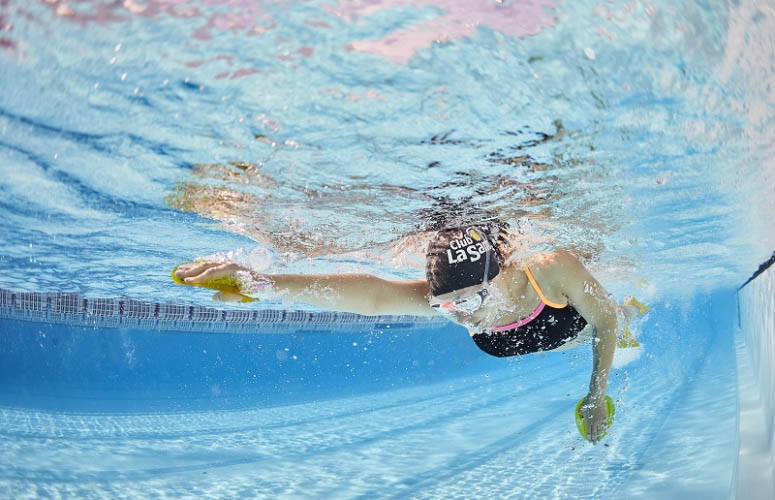 Max participants 10
Athletes joining should be able to swim 100m front-crawl. Be able to tread water and be confident swimming in deep water.
Equipment you will require to bring to the pool.
Kick board, pull buoy, Fins, hand paddles, swim snorkel, swim cap, swim goggles, bather, towel, drinks bottle, stretch cords.
For more information send an email to eventweeks@clublasanta.com
€130
The price for the week is €130 including all activities in the programme, a t-shirt and the celebratory dinner.
Places are limited, early booking is advisable to avoid disappointment.
Please note that the camp is restricted to guests staying at Club La Santa.
From time to time, there are not enough participants in an event to ensure that everyone can enjoy a good experience, in which case we reserve the right to cancel. This happens rarely and should this occur you would be refunded the full amount of the event.