October 30th – November 12th 2020

Club La Santa has the pleasure of hosting the popular International Bike Weeks lead by well known international cyclists. The island's dramatic landscape offers a variety of terrain with some fantastic mountain climbs that makes Lanzarote an ideal place to train; very few riders can achieve the same speed as at home.
Training
The weeks cater for all abilities from novice to the serious racing club cyclist. Ideally, to get the most out of your bike weeks, you should be able to cycle 2 to 4 hours daily. The routes will vary both in length and difficulty, taking you to the far south, through the fascinating Fire Mountains and up to the north with the view over the island La Graciosa. We will divide you into groups, which will go at different speeds (from 21 km/h to 30+ km/h) and levels, so that there will be a suitable group for everybody.
The slowest group will go 21 to 23 km/h. All the groups will be lead by a host and a guide. During the long rides there will be stops allowing you to have a sandwich and refreshments. Before the daily rides there will be advice and guidance given on how to set up your bike correctly and you are welcome to ask the hosts for advice regarding biking in groups, hills/mountains and how to take corners. It is not unusual for the participants to cover about 500-600 km throghout the week! The programme also contains other activities; we will have different social arrangements with the hosts and a pool tournament on one of the evenings. Every week ends with a dinner in one of our restaurants, where different prizes are handed out.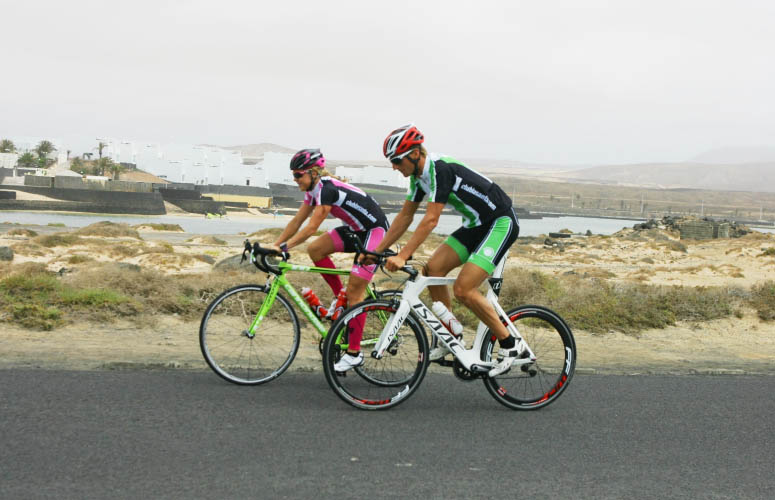 Example Programme – subject to alteration
Friday
09.30  Departure of the day's ride with the
Green Team
16.00  Welcome meeting and registration
21.00  Pool Tournament in the Green Bar
Saturday
09.00  Bike introduction/Group riding skills
09.30  Briefing: El Golfo (70 km)
16:00  Circuit Training on the Beach
Sunday
09.30  Briefing: Los Valles – Garbage Mountain
(60-80 km)
15.00  Water Sports Challenge
Monday
09.30  Briefing: Mirador del Rio – Orzola
(100-130 km)
21.00  Green Team Show
Tuesday
09.30  Briefing: Famara – San Bartolomé
(50 km)
13.00  Team Aguathon (Swim-Bike)
Wednesday
09.30  Briefing: El Mojon (80-100 km)
19.30  Dinner
Tom Kristensen
Won the 24 hours Le Mans (Record) 9 times before he is 2014 retired. Tom has been driving all kinds of racing cars with great success throughout his career.
Tom will be here for a part of the Bike Weeks.
Lars Ytting Bak
started as a professional cyclist back in 2002 on the Danish team Fakta. In 2005 he went on to CSC, and later on HTC. In 2012 he signed with Lotto-Belisol, where he was till the end of 2018 when going to Team Dimension Data. He has won Paris-Bourges, Tour de l`avenir, Grand Tour stages (Vuelta de España and Giro d'Italia) and has been Danish champion 4 times.
Lars will be here for a part of the Bike Weeks.
To book
The price for the International Bike Weeks is €140 for 1 week or €190 for two weeks. This includes daily bike rides of various distances, social activities, refreshments for the longer rides, a t-shirt and a weekly dinner on the final evening.
Places are limited, early booking is advisable to avoid disappointment. Please note that the camp is restricted to guests staying at Club La Santa.
Please note that bike rental is not inclusive of price – Please book your bike here. If you have any problems booking your bike you can contact us by email: bike.center@clublasanta.com
From time to time, there are not enough participants in an event to ensure that everyone can enjoy a good experience, in which case we reserve the right to cancel. This happens rarely and should this occur you would be refunded the full amount of the event.