12th – 18th August 2022
You will be coached in all 3 disciplines, learn new skills and reinforce old skills. You will meet new people from all nationalities, have lots of fun, gain more experience and encourage the next generation of Triathletes
Provisional Program

Friday
09:00  Welcome meeting
10:30  Adults (AD): Bike set up & Ride
(1-2 hrs)
Juniors (JR): Bike handling skills &
drills with a short ride (1 hr)
14:30  AD: Run (45 min)
JR: Running skills & drills & track set
17:00  Swim in the 50m pool

Saturday
10:00  AD: Bike ride (1½-2 hrs)
JR: Bike ride & group riding
14:30  AD: Run out and back (1 hr)
JR: Run skills and drills (40 mins)
17:30  Swim in the 50m pool

Sunday
09:30   Transition practice
AD: Followed by brick session
14:30   JR: Swim in the 50m pool
16:00   AD: Swim in the 50m pool
18:00   Talk about training
Monday
10:00   Family Aquathlon
15:00   Family Ride
19:00   Pool Tournament
Tuesday
09:30   AD: Bike Ride (2-3 hrs)
Followed by 3k Run off the bike
09:30   JR: Swim in the 50m pool
16:30   Open Water Swimming in the lagoon
18:00   Questions & Answers
Wednesday
10:00   Super Sprint Triathlon (Relay)
(200m swim, 3k bike, 750m run)
18:00   Dinner
Thursday
09:30   Short run
12:30   Swim in the 50m pool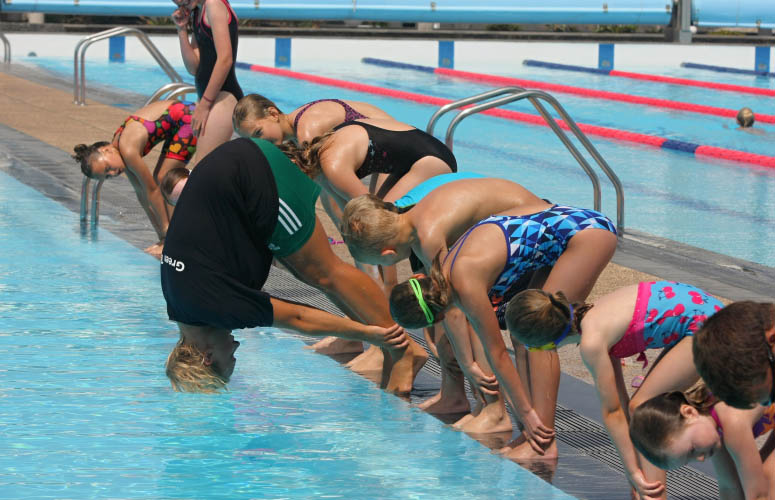 The price for one week is 150€ for adults and 120 € for children (14 years or younger), including all activities in the program, a t-shirt and the celebratory dinner.
If you register as a family, you can obtain a discount. (Make sure to write the names/dates of birth and t-shirt sizes of the extra participants in the Comment box on the entry form below)
2 adults and 1 child = 350 €
1 adult and 2 children = 320 €
2 adults and 2 children = 450 €
Places are limited, early booking is advisable to avoid disappointment. Please note that the camp is restricted to guests staying at Club La Santa.
Please note that bike rental is not inclusive of price – Please book your bike here. If you have any problems booking your bike you can contact us by email: bike.center@clublasanta.com
From time to time, there are not enough participants in an event to ensure that everyone can enjoy a good experience, in which case we reserve the right to cancel. This happens rarely and should this occur you would be refunded the full amount of the event.
If you have any questions regarding the event, please send an email to sportsperformance@clublasanta.com