8th – 21st January  2021
Whether you're looking to prepare for the season ahead while enjoying the sunny climate and challenging terrain, or just want to enjoy some great rides while taking in the breath taking scenery, these weeks are a great way to start your year!
The island offers a variety of terrain, with significant mountain climbs as well as undulating roads, making Lanzarote the perfect place to ride and progress your training.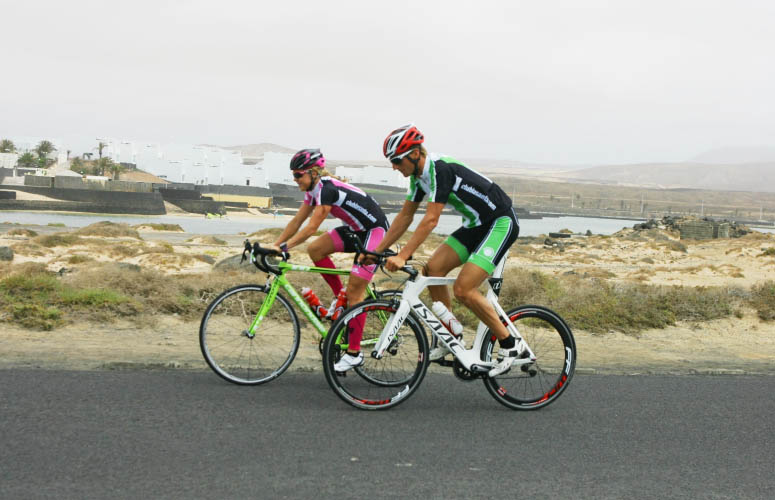 Andy Cook is a lifelong cyclist having represented Great Britain.
As a well respected coach, he has organized training camps for over 20 years,  Andy has a very broad range of cycling experience which he is happy to share, helping participants improve their own training, technique and enjoyment.
Jacqui Cook is a lifelong cyclist. Her experience ranges from having raced at a high National level to helping organise and promote a wide variety of cycling events at grass roots level through to National and International events.
PROVISIONAL PROGRAMME 
Friday
09.00    Welcome meeting
10.30    Briefing: Femés (70-100 km)
Saturday
09.15    Briefing: Tabayesco (85-100 km)
Sunday
09.15    Briefing: Conil-Tias (60-70 km)
17.00    Open Forum on everything about
cycling – Training, mechanics etc.
Monday
09.15    Briefing: Orzola-Mirador del Rio
(100-130 km)
Tuesday
09.15    Briefing: Uga (50-55 km)
Lunch in La Santa village
(Bring money)
Wednesday
08.30    Briefing: Long ride (155 km)
19.30    Dinner in one of our restaurants
Thursday
10.00    Briefing: Famara (40 km)