Chris Wild – Part one the Club La Santa Effect 
So, how does a heavy metal loving, vegetarian archaeologist from Lancashire England end up with the ridiculous idea of completing IRONMAN Lanzarote at home?
This might not exactly be a question you find yourself asking on a daily basis, but, as I flick through the photographs of Chris Wild spending 7 hours on his turbo trainer and swimming in essentially a large paddling pool, I must admit, it does spring to mind.
We caught up with Chris, a 14 time Club La Santa IRONMAN Lanzarote finisher and dedicated attendee turned assistant coach on the annual Long Distance Triathlon Training Camp, held each year here at CLS, to find out more about his love affair with Lanzarote, and the legendary training facilities at Club La Santa. And, indeed, as we had to learn the answer… So, how did 'a heavy metal loving, vegetarian archaeologist from Lancashire' get on, completing an IRONMAN at home?
Here's what Chris had to say about how he first came to Club La Santa and how he first discovered the wonderful world of Long Distance Triathlon. Over to you Chris…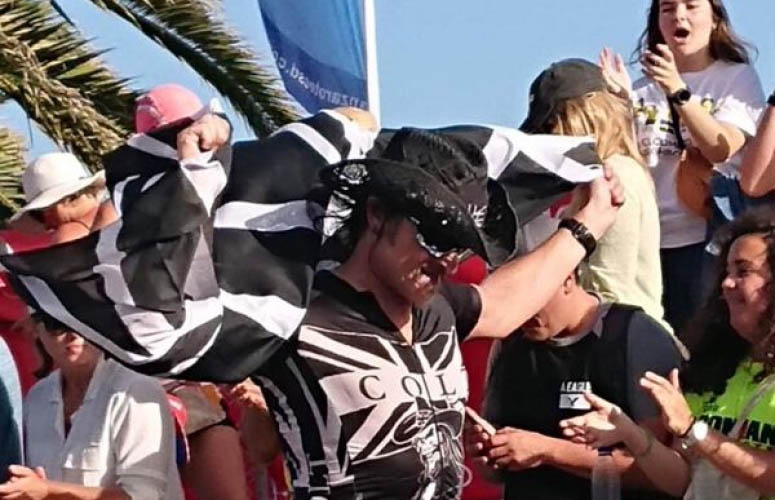 "It's the Club La Santa Effect"
A trip to La Santa Sport, as it was then known, was my first foreign holiday, as a teenager in 1984. The place had barely opened back then, but in many respects, it has changed very little since. Given the appalling reputation of timeshare sales at this time, they were very well priced, and I can still remember being told that we'd be coming back the next year. Even as a sport-mad teenager I had no idea on the impact this place would have on my life.
Roll forward 12 years of Club la Santa trip later and, as with many visitors to Club la Santa, particularly young adults, the weekly mini triathlon became my introduction to the sport.
I hated swimming, particularly in that massive pool, and had never enjoyed running, but it just seemed like such an amazing challenge. I loved catching people up on the bike, and was instantly hooked. We'd all heard about this 'Ironman thing' that had recently started – madness, how could you possibly do all that in one day? Not a chance…
Chris was never a keen swimmer until he discovered triathlon at the CLS facilities!
By 2004 I had finally conquered the sub-1hr mini triathlon. I'd even done a few at home. I still didn't like swimming or running particularly, but I knew I wasn't good enough to be a cyclist, so being OK at 3 would suffice.
Another of many standout memories of how Club La Santa has changed my life is an innocuous conversation with Phil Price. He was the 'Plus Instructor' at CLS at the time, and former National Welsh Triathlon coach. During a ride from Playa Blanca to Femes, he told me that he was going to run the first in-house triathlon camp the following year. I'd heard about the camps run by legend of the sport Robin Brew, but had been far too unsure of my ability to even contemplate the brochure, but this sounded safe. "OK, sign me up" I replied.
Imagine my horror and fear when the 'Long Distance Triathlon camp' info dropped into my inbox! 'Long distance' had never been mentioned! Too late to back out now! So the plan that my very-supportive wife came up with was to try the camp, and if it went OK, maybe think about doing the IRONMAN the year after. I remind her of this conversation frequently, especially when discussing holiday plans!
The camp was amazing; I've been every year since, and now help out on the coaching side of things too. I'd had a growing goal that maybe; just maybe, I could complete an IRONMAN by the time I hit 40. Not a bad mid-life crisis. But, we were now way ahead of that comfortably distant schedule, and before I knew it, I'd completed my (first) IRONMAN. It was May 2006. Box ticked. Move on.
But we all know Lanzarote isn't like that! The place, the people, the sense of family; it gets inside you. I'd exceeded my wildest expectations in tough conditions (even by Lanzarote standards), but I knew I needed more; I could go faster. I did, and so the addiction began…
With Lanzarote, the more you race it, the more fun and special it becomes.
 With Lanzarote, the more you race it, the more people you get to know, and the more fun and special it becomes.
There's no hope of quitting. Add in the urge to turn it into a fancy dress party, by wearing a cowboy hat to run the marathon, and the banter improves, and the IRONMAN Lanzarote family grows. I stopped getting quicker in 2013, when broke a toe in the first transition, and got a puncture on the bike. I still hope I can get back to my best, even though it really isn't about time and position any more. I've brought countless club mates out here to race and train. You can really see how Club La Santa makes an impression on them, both as athletes and, more holistically as people. This place is definitely my spiritual home, and the IRONMAN is our Christmas!
Keep following Chris's blog series to learn more about how his experiences at Club La Santa and the Club La Santa IRONMAN Lanzarote have changed his life… and of course to find out more about his Virtual IRONMAN Lanzarote experience!