Date published: 07/20/2020
…And so to 'Race Day'. While the green, rolling hills of Lancashire may seem a far cry from the imposing, volcanic landscape of Lanzarote; Chris was determined to make his 'IRONMAN Lanzarote (via Lancashire)'the most authentic race experience possible. From a swim in the wild waters of his paddling pool, to a gruelling 7 and a half hours on the turbo; here's the story of how the 'IRON –hippy' became a home made IRONMAN.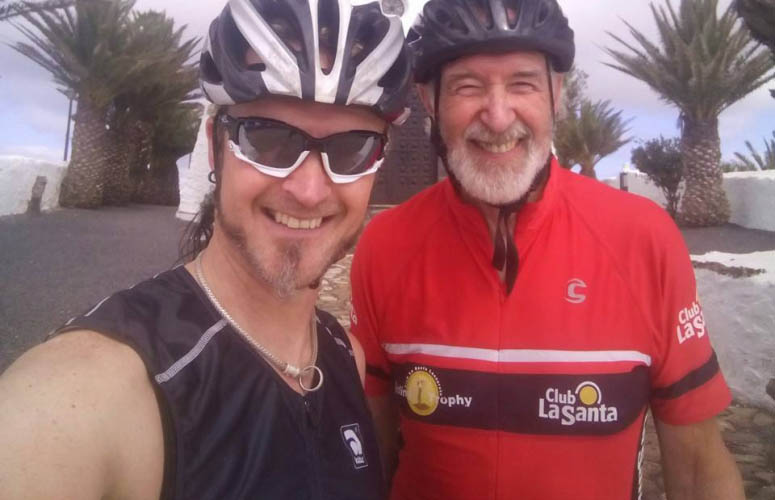 Like any with IRONMAN, Chris's day started in the water…
'Swim temperature was 12°. For those of you that visit the Wellness centre at Club la Santa, or similar spa-type facilities, that's pretty much the temperature of the cold plunge pool! The swim was fairly uneventful, if a little harder than normal, but at least I wasn't getting thumped and kicked for a change! I had a fairly slow transition, given all the extra gear for the temperature and the pool, and then it was onto the turbo trainer.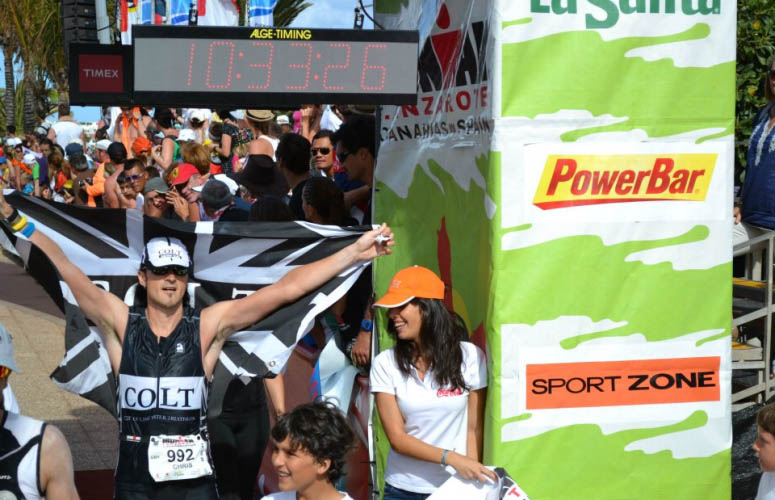 "Real Wind: on/off", was the option given to me by my Bkool turbo software. Got to be 'on' for the Club La Santa IRONMAN Lanzarote, it's possibly the most famous thing about the course! Most years, at IRONMAN the wind blows from the North to the East. This is good; you get 'blown home' from Mirador del Rio. The years that it blows the 'wrong way' stick in the mind. 2007 and 2017. It really can make 20-30 mins difference. My fastest bike split of just less than 5 hours 40 minutes was in 2010, when there was almost no wind; IRONMAN Lite, as some locals called it! Add 2020 to that list, and the real effect simulation meant that the wind was typically blowing 30-40kph (20-25 mph)! I'm pretty sure the algorithm they used for altering the resistance due to wind is based on the effect it has on a very light climber (who weighs as much as one of my legs)
All this is just my feeble excuse to justify the cycle taking me 7hrs 29 minutes; a full 1hr 45 longer than it took me 'for real' in 2011! I was definitely fitter then, and I wasn't constantly typing thank-yous or updating Facebook, but I'd definitely given my self a tougher time than I needed to. It was my slowest bike split ever (I completed the IRONMAN UK course faster with 2 cracked ribs after an accident at mile 15!). I was dreading 6 hours plus on the turbo trainer, but with all the support from friends and family, and my always supportive and patient wife bringing me the odd coffee, the time actually passed pretty quickly.
"Real Wind: on/off?", Got to be 'on for the Club La Santa IRONMAN Lanzarote!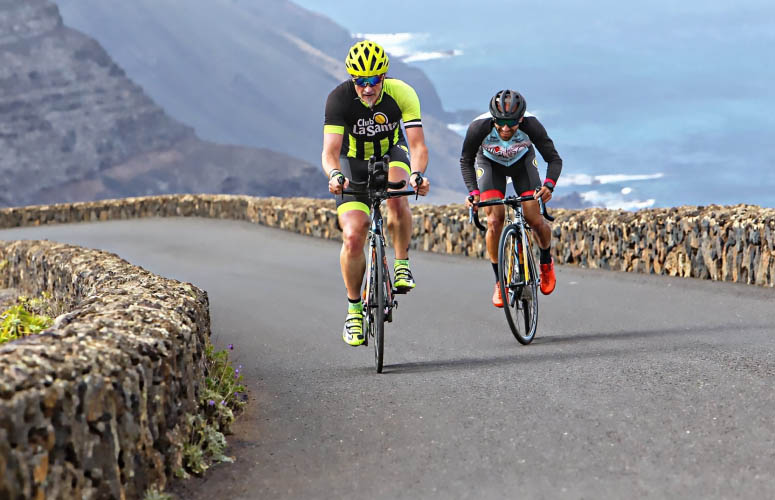 Then there was just the 'small matter' of running a marathon. Running off the bike is odd. The first few times it hurts like crazy. I used to lollop along like a cowboy who'd been sitting on a horse too long (way before the cowboy hat made its debut). But, after many years racing, I get the opposite effect now; the relief off not pushing big gears into the wind and hills means my legs feel light and free, and I set off at wonderful speeds with minimal effort!
This never lasts!
I'd never run off and indoor trainer before; I tend to use it late at night, or during bad winter weather, so the attraction of a complete kit change and a plod up the road is zero! Nothing like being under prepared!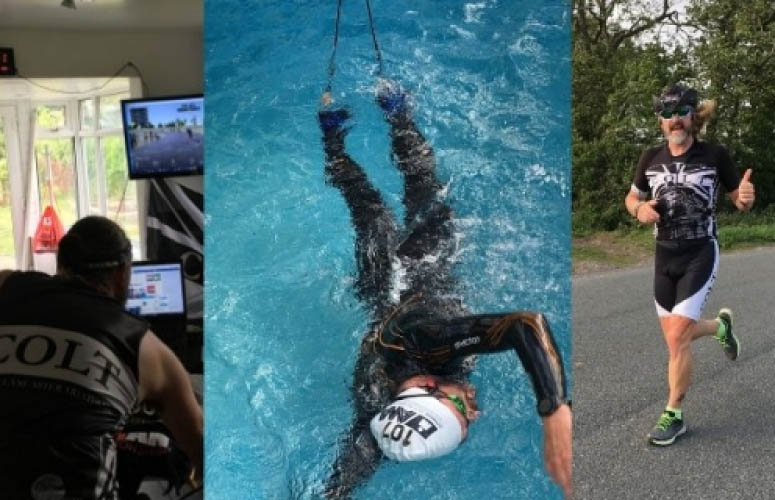 On Saturday 23rd May, the UK was 'Lanza-windy', but luckily up north, and having started later, I knew I wasn't going to cook. The cowboy hat sticks pretty well on my head if I keep at the right angle to the wind. The normal run pattern followed – effort stayed the same, but the body slowly seized, running became less efficient, and my aim for a low 3:30s at half way ended up as a 3:42. Slightly disappointed, but it was my fastest 'marathon' since 2013, so can't complain really!
And, that was it, after weeks of planning; my 'Virtual IRONMAN Lanzarote 2020'.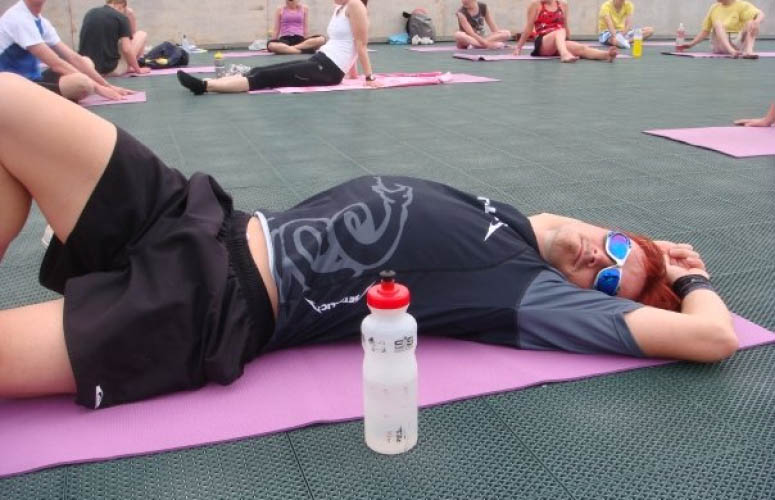 I wanted to use it as a vehicle to spread a positive message that we, humans, are adaptive. We can and will find a way to overcome difficulties. That, I think, is a big part of the mental aspect of racing IRONMAN, but it applies to life more generally too at the moment. I also hoped to raise some money for the real heroes who have been putting themselves in harm's way to look after us.
It always staggers me how generous people are in times of crisis, with money, time, and thought. We are each blessed with varying quantities of each, but so many people put their hands deep into often shallow pockets, time and again. I hate asking people for money, even for causes that are so obviously worthwhile to everyone. So I apologise for asking, but these are exceptional times. At the time of writing, my fundraising total is over £2,000! I set a target of a single pound for every mile; that would be worthwhile, and would do a little bit of good somewhere. I secretly hoped that I might get £500, knowing how much love and support there is in my network of friends. I nearly cried when we hit £1,000 when I was still cycling – IRONMAN racing always exposes your emotions.
I just want to say a massive thank you to everyone who has supported me, or anyone else's cause to raise money in these dark times. Not just financially, but with messages of encouragement, and to those who've helped spread this story to a wider audience (people who might have 'seen that idiot in the cowboy hat' at some point!)
Stay safe, stay positive, and try to stay healthy. Virtual hugs,
Until next time Chris Wild, (AKA Iron Hippy; AKA the Iron Cowboy (not the real one, he's American – I don't choose these nicknames!!)