Last time we found out all about Chris Wild. How, as a teenager, he'd discovered Club La Santa (or La Santa Sport as it was known back then) and how that started a lifelong love affair with CLS and the island of Lanzarote. This week, Chris goes on to explain how his idea to complete his 15th IRONMAN Lanzarote from home was born, and how exactly he completed a 3.8 km swim without access to a pool, lake, river, or indeed the ocean.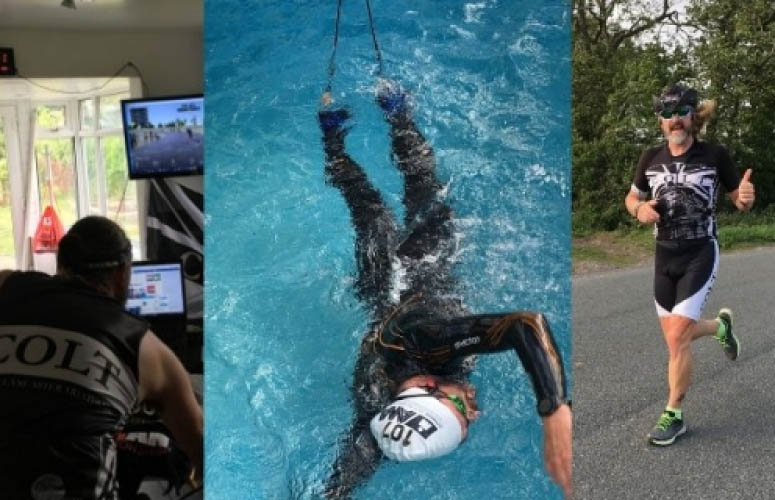 I don't really remember what life was like without doing an IRONMAN in May
I was out in Lanzarote in February and early March this year, for, as ever, the Long Distance Triathlon camp at Club la Santa. I had arranged to stay on for a bit, to work from 'home' writing up some reports. Global events were already unfolding by then, and it quickly became clear that even the glorious isolation of Lanzarote was not going to escape world news this time.
I was cycling on March 14th, unaware that lockdown was only hours away, but already 100% sure that we would not be racing this year. So, I started plotting, while out on my bike, how I could do a solo version. My ideas included; leaving strategically placed feed stations around the bike course, and using our rental apartment as a makeshift transition etc. When I left, on almost the last Ryaniar flight out of Lanzarote, the following Friday; I knew 'Plan B' had gone too.
I don't really remember what life was like without doing an IRONMAN in May, so Plan C had to be hatched!
I currently live 50k (30 miles) south of my triathlon club in Lancaster, and the same distance north of my work. I'd seen a video of some guy swim training in a paddling pool, with stretch cords around his feet.  I thought that would save me a lot of travelling, and some money on gym membership, so I decided to set this up for myself! Almost immediately after I'd bought it however, I started working at a university with a sports centre, so began swimming there!
My 'home pool' has always been really cold, and really hard work to swim in, especially in gloves when it's particularly cold. I'd pretty much chalked it up to a failed experiment, but useful for an occasional session. Until lockdown. I knew I could use this for the 'swim' part of my virtual IRONMAN. 3,800 strokes would be a good estimate, but I decided going for the same time I swam last year would be fair.
Many cyclists, and it appears almost every triathlete, use indoor cycle trainers for winter training. It's warm (er), safe, and you can put some decent effort in without the fear of disappearing down a pothole on a dark road. The last 20 years has seen the growth of realistic trainers, where the resistance is controlled by computer software to replicate hills. I started on the Dutch Tacx software a fair few years ago; you can actually follow a route on a map. Awesome; I love maps! Every winter I'd set out to do a virtual Land's end to John O' Groats, meticulously mapping all the routes via interesting places, and rarely getting into Wales. Through a friend, I ended up with a Bkool virtual trainer. Awful name, but the software was similar, you could upload courses from anywhere in the world. I was hooked.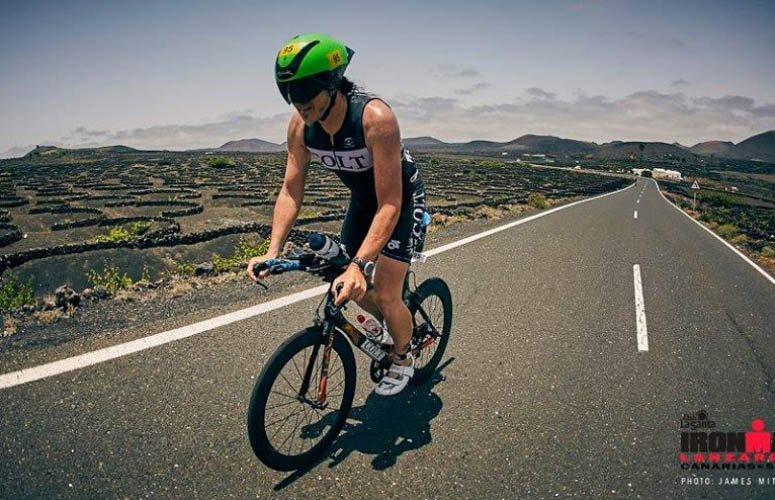 I often train virtually in Lanzarote, on favourite routes. The landscapes aren't that accurate, but I can always recognise the roads in the bend, and the adjacent volcanoes, cliffs, and villages.
I knew that I could do the actual IRONMAN Lanzarote course on the turbo! Three options: race the 2019 course; race the probable 2020 course; or pick an old favourite that I wouldn't be able to race again (because of changes in Spanish laws about road closures for racing). The latter seemed the best option. A quick trawl through the library of available routes found a nice accurate one from 2011. Another box ticked. It took me hours to add waypoints to the route, at the top of climbs, and other points of interest to keep me motivated on the day.
So, all that was left was the small matter of working out where to run a marathon? UK lock down was thankfully far less severe than Spain's, allowing us out for exercise once a day, for a 'reasonable' amount of time. It's almost impossible to make hard judgements around such concepts; one person's short easy session is another's longest/fastest ever. One of my big aims for doing this was to spread some positivity, so generating possible arguments did not seem a good idea. I've seen amazing people run garden marathons and even balcony marathons during lock downs around the world, but I knew my torn knee cartilage wouldn't thank me. There's a good 2.1k loop 'round the block' from me. I generally meet a dog-walker every 3 laps, so social distancing really not a problem if I stuck to that. However, with the change in guidelines to 'limitless exercise on your own, anywhere you like (I paraphrase!), I had open choice of where to run a marathon at home. I needed to be able to use my gateway as an aid station, so a mix of 6.5k and 2.1k loops would do it, and I actually made that bit up as I went along on the day. 4 long, 1 short for a sneaky extra aid station, 2 long, 1 short, and an out and back to make the distance. That would not have gone down well at an official race briefing!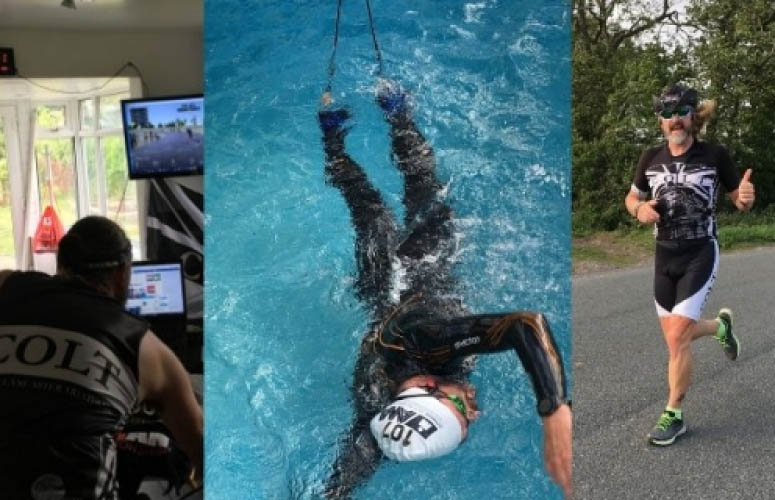 On the day, I wanted to make it feel as 'real' as possible,
so I packed race bags as normal, laid all my morning kit out as normal, and prepared all my race nutrition. I almost forgot that I'd need to provide the 'on course' nutrition too,but just managed to get some cola ordered for the run at the very last minute! The massive upside of racing alone is that I could start whenever I was ready, and listen to very loud music on the bike, and the run!
At approximately 8:30am I started the race clock. The countdown timer for IRONMAN Lanzarote (via Lancashire) 2020 had begun. I even pictured Kenneth Gasque with his air horn!