Basketball, Beach Volleyball and Football.
Ball Games
We have many ball games on offer at Club La Santa, from football to handball, beach volleyball to basketball. We offer a variety of instructions and organised competitions in these sports throughout the week. You can also borrow a ball from Sports Booking and play with your friends and family, or perhaps even make new friends (areas are subject to booking/availability).
Our facilities are world class and top teams often choose us for their pre-season training camps. It's a great feeling to watch and train alongside national and international athletes.
Football 
Club La Santa has Lanzarote's only grass football pitch! Here you can play on the whole pitch or it can be divided into two to play in a smaller area. Our football pitch can also be used for other activities such as athletics, rounders and ultimate frisbee.
We also we have a smaller 5-a-side football pitch whose surface is the finest quality artificila grass approved for FIFA World Championships. This area is also used for many of our fitness activities but when it is not in use, you can pick up a ball from Sports Booking and play there with family and friends. We recommend playing on this surface with football shoes.
Football Instructors and & Tournaments 
Football school for kids from 5-15 years – a chance to perfect your football skills with a series of fun training exercises and drill

Football tournaments for kids and adults – divided into ages 5-10, 11-15 and 16+

Social football tournament for adults

Fitness Football instructions for men and women – a fun cardio and strength workout with a football – suitable for everyone even if you have never played football before

Once a year, we run a football camp for 7-14 year olds – learn new skills, have fun and meet new friends.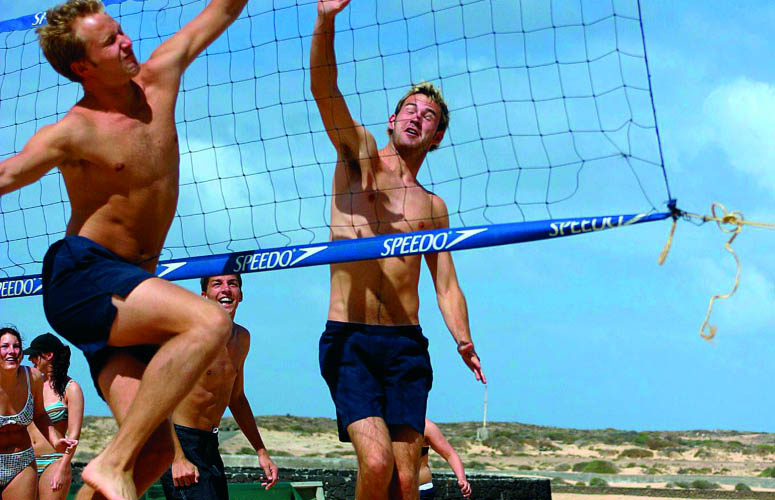 Volleyball & Beach Volleyballs 
At Club La Santa you can play this fun sport both indoors and outdoors.
We have two indoor courts available in our sports halls and three outdoor courts in the sun, next to the Water Sports Centre.
The outdoor courts can be booked in the app or in Sports booking but if you want to play indoors please speak to Sports Booking so they can arrange booking and nets. You can borrow balls from Sports Booking.
Free Lessons And Social Tournaments 
Beach Volley Instruction to learn the basic techniques followed by a chance to use those skills in a social tournament

Beach Volley Tournament playing under the Lanzarote sun against your family, friends and fellow guests

Social Indoor Volleyball Tournament to experience the rush and excitement of the volleyball game with your friends and other guests