Basketball, Beach Volleyball and Football.
Ball Games
If you wish to play at your own leisure, this is a great way to meet new people and make friends. You can borrow balls from Sports Booking and play when the courts are free.
Football 
Club La Santa has Lanzarote's only grass football pitch!
We also we have the five aside area, which we have weekly tournaments on organised by the Green Team. You can use the 5 aside pitch from 08.00 to 21.45.
We also have a smaller '5-a-side' football pitch at open from 08.00 to 21.45.
Tournaments & football camp
The Green Team organises social events for both adults and children every week that are held either on the grass pitch in the stadium or on the artificial 5-a-side pitch. Everyone is welcome to join in
The Green Team organises a weekly tournament, where guests play against the Green Team, when there is enough Green Team staff available
Football-mad children can go on a football camp during holiday periods, where there is training a couple of days a week.
A couple of times a year we also hold football camps as a theme for the whole week
Fitness Football for Men / Fitness Football for Women 
Be part of a 50 minute hard but fun cardio and strength workout with a football. The instruction is for everyone even if you've never participated in tn football before.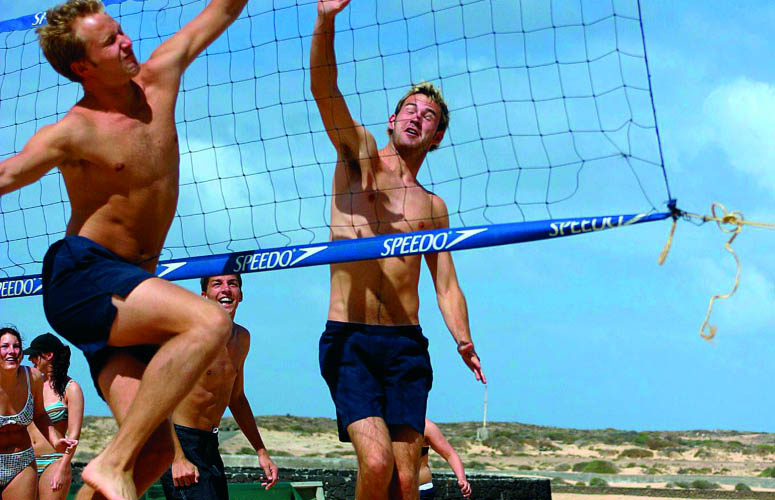 Volleyball
We have three beach volleyball courts located near the surf station and both are equipped with nets that can be easily adjusted.
Free lessons and social tournaments:
We offer beach volleyball lessons and we encourage both beginners and experienced players to take part as the teaching is aimed at all levels.
The Green Team often organises social tournaments where everyone is welcome to join in, regardless of experience.